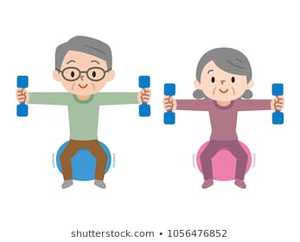 From the age of 30, we lose about half a pound of muscle per year, this also unfortunately includes muscle mass from our vital organs. Training here in Educogym North Wicklow just 20 minutes a day, three times a week can help tremendously with this.
There are an incredible amount of benefits for weight training, even for those who think they are too old to work out. Weight training can significantly improve muscle mass & muscle quality while also burning fat, increase general strength which can make every day tasks seem a lot easier as it can totally reform your mobility! It also improves overall endurance including walking speed, reduces aches and pains, it also can greatly improve your balance, weight training has endless benefits for the body & mind, as it can have an incredibly positive effect on your mental health and self-esteem.
Weight training not only builds muscle , it also increases your metabolism. It is never too late to start! There are much more benefits to weight training for seniors, give us a call today to find out more, and begin transforming your life!
FREE GUIDE TO GETTING HEALHY
Free Guide to Getting and Staying Healthy
Your guide will give you a solid foundation to understand how to get fit and healthy, and staying that way.
We will go through all aspects of the BEST kind excersice and the Foods you should eat and stay away from