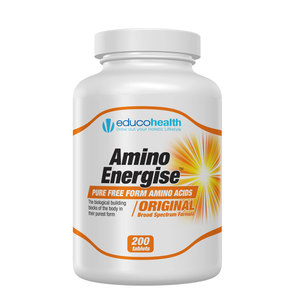 Amino Energise are free form amino acids which stimulate growth hormone release, which can greatly increase your results in the gym! Amino Energise are made up of the purest form of free form amino acids, they are pre digested, which in turn, lets them go directly to form firm muscle tissue, skin & hair.
Keeping your metabolism up is a major factor in burning calories and fat. Amino energise stimulates the growth of muscle, which leads to an in increase of calories burnt, and fat loss. Amino Energise will sky rocket your metabolism!
As amino acids are the building blocks of the body, when some are lacking, the muscles become porous and start to literally break down. No amount of dieting or exercise can remedy this problem.
Amino energise will give you a truly exciting result, your body will take on a solid muscle structure which it never had before, giving a more firm, and sculpted look. People who take amino energise, feel stronger, have more energy and a massive confidence boost! As our bodies become firmer, this results in fat loss. This ultimately happens when you increase your solid muscle tissue, your energy increases & you burn off fat!
FREE GUIDE TO GETTING HEALHY
Free Guide to Getting and Staying Healthy
Your guide will give you a solid foundation to understand how to get fit and healthy, and staying that way.
We will go through all aspects of the BEST kind excersice and the Foods you should eat and stay away from